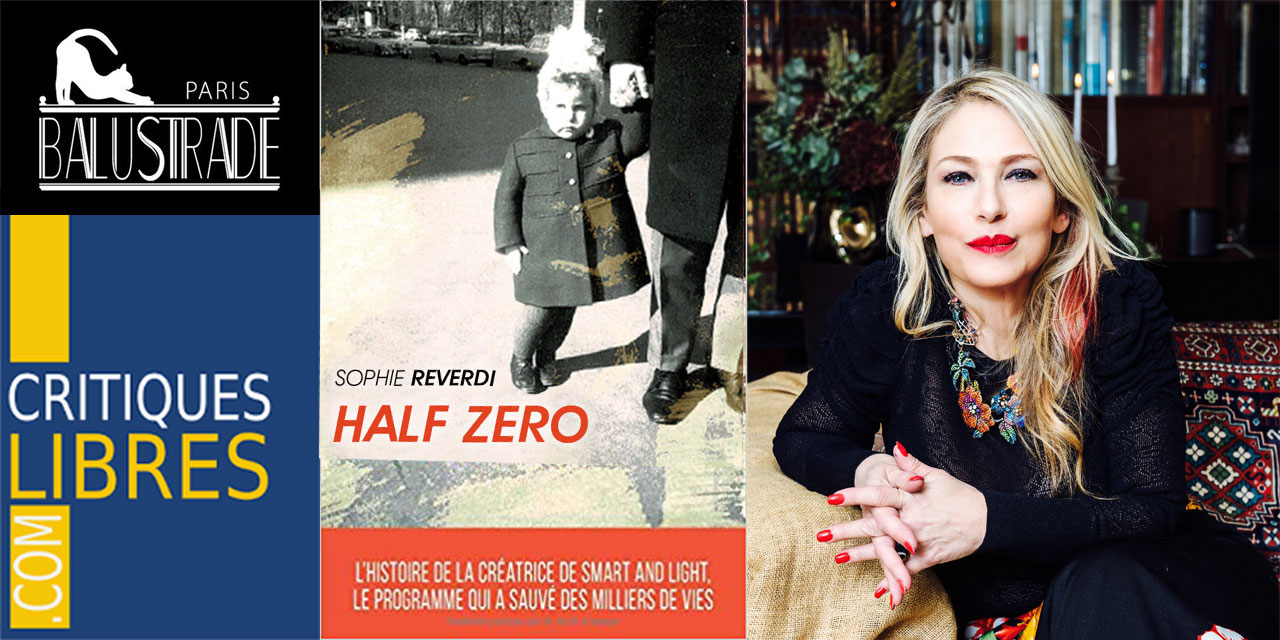 The story of a very real woman
What a wonderful person is the author of this book! Sophie Reverdi From a very tender age. Sophie Reverdi promised herself to consecrate her life to battling a current catastrophe: obesity. But a painless battle, because she lost weight in pain.
As a child, an adolescent, she suffered more than her share! It is hard to believe, but the details are precise, the players identified, the settings recognizable, and everything supported by touching; photos. More than a story of her life, Sophie brings us into her life.
The story begins, as is often the case, well before her birth. It is in the dark center of Europe, that a young and extremely beautiful young woman, as many Romanians are, barely escapes the Nazis. This is Sophies mother, an educated woman who finds herself trapped between Charybidis and Scylla as it is not a good thing to find one's self in Bessarabia, that is in Moldavia during the 40s particularly if one is partially gypsy. Saved at the last minute from deportation to the concentration camps, brought to the west by her first husband, the young woman finds herself in a nightmare of a marriage with a domestic tyrant with whom she has a second daughter: Sophie. To describe this family as unhappy is far from the reality: Sophie finds it unbearable and to compensate begins to eat and eat until she becomes, according to her, monstrous.
The first part of this account concerns the trials and chaos of the family and forces us into the confusing Mitropa (a German-operated railway network) on the edges of Romania already threatened by the Soviets. It's another world, often evoked by Stefan Zweig, of talented and creative people, as in all good families one learns literature, music and many other things. While their world crumbles around them, they manage to survive this. We discover the amazing self-reliance and creativity of these constantly menaced fugitives. They manage to find their way to the west not yet occupied. Obviously, there was no question of returning to Romania after 1945. The father considers Ceausescu unworthy of confidence
Without insistence, Sophie Reverdi evokes certain key personages that crossed the family's path, an amazing collection of artists, intellectuals, all kinds of people of many talents and abilities. A world lost to us. To the European genius the genius of desperate peoples was joined together.
One day, Sophie was born into a family that was falling apart. Her sad childhood in the company of a deeply melancholic mother leaves her in distress. She becomes the black sheep of the family, the one who can't do anything right—a "less than zero". A zero cut in two, as her father described her. She becomes handicapped by her obesity. Her childhood becomes one of frustration and misery. One day she finds herself in a camp for obese children in The United States, and she has an epiphany. She will rescue the obese from their heavy burden. It will become her crusade. The « less than zero » consecrates her life to this and never abandons it.
She loses weight. It is her first obligation. The whole experience is terrible, the method abominable, but it works. Sophie encounters some extraordinary people: an Algerian tailor, a rock musician, a Swedish coach. She graduates from the Lycee, learns hospital management, she blossoms, but never forgets. Beautiful and ancient photos of her family and significant people in her life give life to these silhouettes that are evoked too briefly. But the story does not lose momentum, it is rich, varied and forces one to sometimes go back and read again. And the author skillfully creates suspense, which is rare for a memoir. We discover along the way the transformation of an admittedly pretty adolescent, determined to escape its shell, into a dazzling beauty, and then mother.
One could be wary that an account of the tribulations of a dysfunctional family to the establishment of an obesity treatment center would dilute the story. Sophie-not yet Reverdi- knows how to complicated her existence beyond the credible an recognizes the role of central Europe in teaching her to overcome every obstacle. It is in Tunisia that the story continues, and once again she finds herself on the merry-go-round of government ministers, doctors, and a society of intellectuals that a young man seizes the opportunity of a lifetime and becomes a precious collaborator.
At last the center opens in a suburb of Carthage…and the first patients became, inevitably, her friends. By consistency a method evolves, and patients lose weight. But that would be too simple, and politics intervenes to change the situation. So much so that Sophie-now Reverdi-opens a center in Paris, and everything starts from the beginning with new patients, a procession of well-meaning people (others did not stick with the program, but the Reverdi miracle occurs and they reappear later.) The friendship of Sophie is without fault.
The story finishes much later in a string of expressions of gratitude and praise for everyone as there is
something miraculous in the intuition of this « less than zero » and it is that the narrator and the heroine claims no glory. She has a rock-solid determination. Everything is presented as the result of the help of others. The devotion of her friends and the interest significant people have shown in her project: it's almost as if she had nothing to do with it. It is rare, it is precious. Sometimes one finds her modesty incomprehensible and then a wonderful man appears, an admirable woman who enable the realization of her project.
What more to say? The story is told in a precise and perfectly simple manner. There is something unexpected on every page. It reads quite like a thriller.
In annex, the program « Smart and Light » is presented in a few pages. It's outside my expertise to remark on that, but you can consult the site of Smart and Light here: https://www.smartandlight.com
Without a doubt, the most beautiful book that I have read in 2019. François MARTINI
Link to the article "PARIS BALUSTRADE"