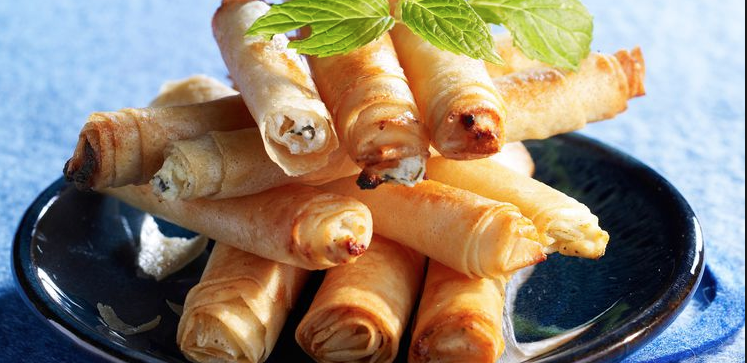 Chicken spring rolls (1 person)

Ingredients:

1/2 chicken breasts 1 teaspoon of capers 1 onion, 3 sprigs of parsley 4 sheets filo pastry 1 egg, salt, pepper

Preparation (30 minutes)

In a non stick pan, melt ¼ cubed chicken broth with 3 tablespoons water until boiling. Place your sliced ​​chicken breast, capers, minced onion, parsley, salt and pepper, and cook over very low heat for about 10 minutes.
Meanwhile, hard boil your egg (ten minutes)
Remove the sliced chicken breast from the heat, then finely chop them by hand and return them to the pan.
Add the hard-boiled egg that you have previously crushed with a fork, chicken mixture, capers, parsley and onion.
Take a sheet of filo pastry and place ¼ of the preparation in the middle lengthwise, then fold the sheet in 2, then with your fingers create a roll shape, while folding the ends of the sheet like a gift wrap.
Do the same with the other sheets and put your 4 rolls in your preheated oven at 170 ° C
Cook for about 10 to 15 minutes turning halfway.