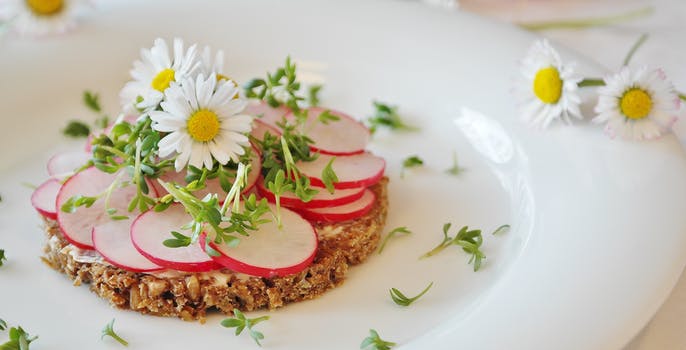 Pink radish carpaccio on tuna tartar (1 person)

Ingredients: 2 or 3  pink radishes 200 g of raw tuna 50 g of rocket leaves 15 g of white onion 3 cherry tomatoes 10 g of gherkins 10 g of capers, 1 sprig of chervil or 1 sprig of parsley ½ tablespoon lemon juice ½ tablespoon edible paraffin oil a few drops of Tabasco Thin slice of lemon salt and pepper

Preparation (15 minutes)

Put a little washed rocket around a small baking circle in the centre of the plate,
but leave the baking circle because you will add the tuna tartar.
Finely chop your tuna the capers, onion, gherkin, chervil or parsleyand add them to a bowl
Add salt and pepper, add the lemon juice Tabasco, paraffin, and mix with fork or hand, then gently place the tartar in your baking circle and press firmly, remove the circle.
Wash and thinly slice your radishes with the peeler, then arrange them over your tuna tartar. Place a sprig of chervil or parsley on top and a thin slice of lemon.