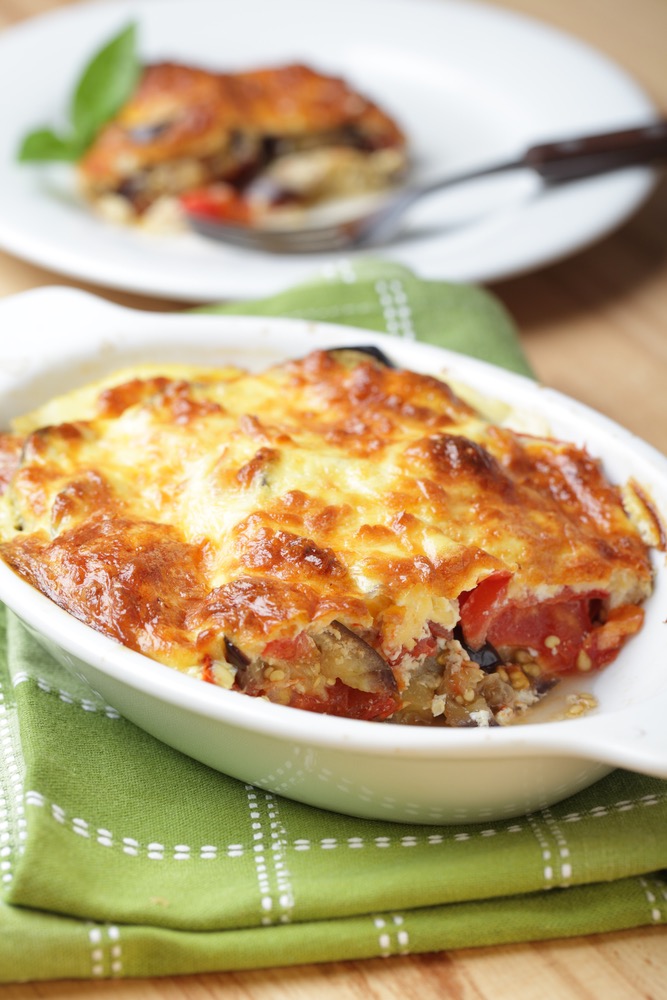 Vegetarian moussaka  (1 person)

Ingredients:

1 aubergine 1 courgette 1 red pepper 1 onion 300 g of 0% fat cream cheese ½ bunch of chives 2 large tomatoes 1 clove of garlic 1 egg, 1 teaspoon of Parmesan cheese 1 vegetable stock cube salt and pepper

Preparation (2H30)

Slice the aubergine lengthwise and cover with coarse salt to remove the water from the vegetable.
Cut the courgette into medium slices and the pepper into strips, then fry them in a non stick frying pan with ¼ vegetable stock cube and 3 tablespoons of boiling water to soften the vegetables.
Now rinse your aubergines with cold water and then wipe with kitchen paper and cut into slices Fry the sliced ​​onion, the sliced aubergine and crushed garlic with a tablespoon of water in another non stick frying pan (always pour the vegetables when the pan is hot and the liquid boiling).
Add to this garlic onion mixture, the tomatoes cut into small cubes, then add ½ glass of water, salt and pepper and cook on a low heat for ½ hour.
When the eggplants are ready, rinse with cold water and then wipe with kitchen paper (sopalin)
Mix the cottage cheese with chopped chives.
In a non stick baking dish, put a layer of aubergine slices, then courgette, then peppers, then a layer of tomatoes, cover the last layer with a layer of cottage cheese, then repeat the layer of Eggplant, zucchini, peppers, tomatoes, cottage cheese, then to finish, put the beaten egg and parmesan mixed, salted and peppered,
then bake in a preheated oven at 180 ° C for 1 hour.